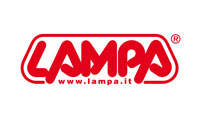 Raptor Hybrid, wiper blade - 35 cm (14") - 1 pcs
Multi-Fitting system up to 11 adapters according to size:
1 Universal adapter, to fit on all cars equipped with traditional wiper blades.
10 Special adapters A+B+C+D+F+G+H+J+L+M to fit on cars originally equipped with frameless wipers.
Advanced aerodynamic design.
Efficient and smooth wiping performance in any condition.
Steel frame with plastic spoiler.
Special rubber blade to minimize friction
Do you want to buy?
If you are interested in locating a Lampa distributor please contact us at export@lampa.it